---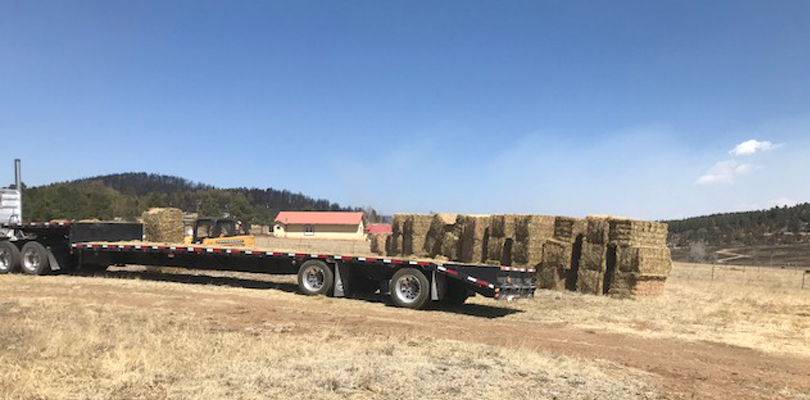 New Mexico has had a very early and extremely damaging wildfire season. The fires have left many producers without summer pasture, and many have lost their supply of hay inventories. The challenge is finding sources of forage for impacted producers. This hay and pasture contact page was created so landowners and those with hay for sale may list what might be available. The goal is to establish a one-stop shop for the convenience of both New Mexico producers and those who have supplies. 
To be added to this list, please send your contact information and information on available supplies you may have, including amount and type available, to: hayhotline@nmda.nmsu.edu.
List updated 1/11/2023
Chris Massey
575-545-1258
chilepods@yahoo.com
Location: 1665 State Highway 338, Animas, New Mexico 88020
Type available: Second cut alfalfa (3x4x8 bales)
Dave Wade Farms, Inc.
Call Dave Wade at 575-418-1487 or
Call or text Cyndi Wade at 575-418-1483
wadecmw676@gmail.com
Location: Family farm operation is near San Antonio, New Mexico
Type available: Alfalfa and wheat hay for sale for immediate distribution
Joe and Marie Sanchez
505-573-6094
sanchezmd@msn.com
Location: 3 Patricio Rd., Highway  47 (at the corner), Tome, New Mexico
Type available: Green, leafy alfalfa for sale. Barn stored. Two strand bales. 75-85 lb. bales. $12.00 a bale.
Kanzas Massey
575-494-2678
masseybunch@hotmail.com
Location: 96 Black Mountain Rd., Animas, New Mexico 88020
Type available: Grass hay and alfalfa
Kiva Farms
Contact Vance Dewbre at 575-693-1056
vance@plainsmenbrokers.com
Location: Clovis, New Mexico
Type available: Premium small bale alfalfa grown in Fort Sumner, delivery available
Luis and Sabrina Flores
575-491-8472 or 575-518-8367
luerassa@hotmail.com 
Location: Valencia County, Northern Belen, NM
Type available: 100 small bale alfalfa for $10.00 if picked up, $12 if delivered
Martin Farms
Contact Henry Martin 575-749-6075
henrywmartin95@gmail.com 
Location: Grier, New Mexico
Type available: 400 bales of grain sorghum with the heads for $220 per ton. Discounts if multiple are purchased. 
Sanchez Farms
Call Javier Sanchez at 505-400-3192
estanciavalleyfeed@yahoo.com
Location: Family farm operation in Ewing, near Estancia, New Mexico
Type available: Alfalfa (3x3x8 bale $130 each), sorghum-sudan hay-grazer (3x3x8 bale $130 each or 4x4x8 bale $250 each) all for immediate distribution. Delivery available. Is also a New Mexico True producer.
Please note: This web page is a service for those needing forage and those selling forage. Any transactions resulting from this contact list are between the buyer and seller. The New Mexico Department of Agriculture does not endorse any items or services listed on this page.