---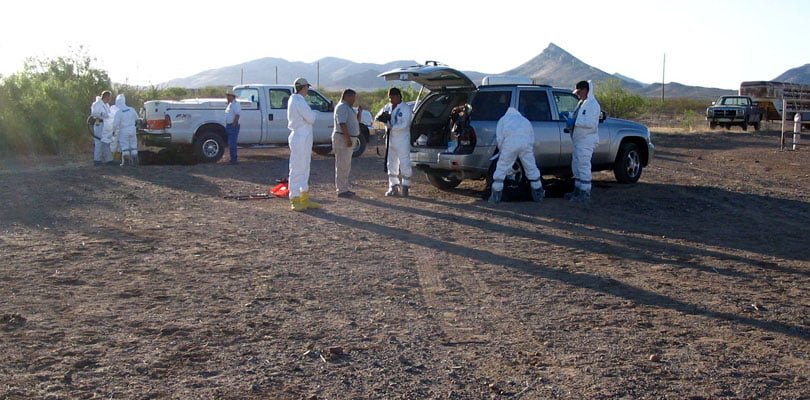 The NMDA's office of biosecurity strives to protect New Mexico agriculture's critical infrastructure. This is accomplished through planning, training and, when necessary, assisting in the response to all-hazard events. This is largely achieved through a partnership with the Southwest Border Food Protection and Emergency Preparedness Center. The NMDA office of biosecurity takes many proactive measures, including training at Louisiana State University and the University of Tennessee's Center for Agriculture and Food Safety. The office of biosecurity has partnerships with the National Center for Biomedical Research, the United States Attorney's Office, the Federal Bureau of Investigation, U.S. Customs and Border Protection, and state and local agencies.
The NMDA biosecurity program is the state Emergency Support Function (ESF) 11 coordinator.
Visit the Southwest Border Food Protection and Emergency Preparedness Center for more information about our ongoing programs in New Mexico. You'll also find current training opportunities and links to other resources.
Agricultural producers in New Mexico are encouraged to visit the drought resources page, which includes information about and links to various resources at the local, state, federal and university levels.
The United States Department of Agriculture's Animal and Plant Health Inspection Service confirmed the presence of highly pathogenic avian influenza (HPAI) in a non-commercial backyard flock (non-poultry) in Bernalillo County, New Mexico Oct. 6, 2022. Avian influenza is caused by an influenza type A virus which can infect poultry (such as chickens, turkeys, pheasants, quail, domestic ducks, geese, and guinea fowl) and wild birds (especially waterfowl). Visit the NMDA HPAI website or the USDA-APHIS website for more information.
Marshal Wilson
Biosecurity Coordinator
mwilson@nmda.nmsu.edu
575-646-7243
---