---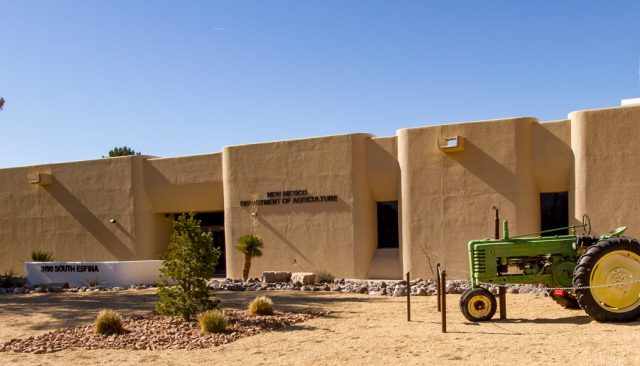 "There shall be a department of agriculture which shall be under the control of the board of regents of {New Mexico State University}… "
New Mexico Constitution,
Article XV, Agriculture and Conservation,
Section 1. [Department of agriculture]
The original New Mexico Constitution, ratified in 1911 and the basis for statehood in 1912, created the state department of agriculture. In 1955, NMSU's Board of Regents unified a number of regulatory services and the individuals responsible for administering them under a single administrative organization: the New Mexico Department of Agriculture.
Today NMDA is a producer-consumer service and regulatory department responsible for various statutes legislated since its inception. NMDA's mandate has changed over the years in response to changes in population, the needs of agribusiness, and technological advancements. NMDA remains committed to serving its constituents by periodically reviewing statutes and fee structures, as well as offering compliance assistance and education in an effort to maintain a safe and secure food supply, promote a fair marketplace, and secure our natural resources.
NMDA remains committed to expanding value-added agriculture in local, state, national, and international markets.
Since 1978, the director of NMDA has served as the secretary of agriculture on the Governor's Cabinet. As such, the director /secretary is the official representative of New Mexico agriculture to state and federal government. The director/secretary also serves on NMSU's Executive Committee and Administrative Council. NMDA's relation­ship with NMSU means the board of regents serves as the state board of agriculture, thus solidifying the importance of agriculture to both the university and the state.
NMDA has been directed by a short list of long-tenured leaders. Dallas Rierson was the first director of NMDA, having served from 1955 to 1971. Dr. William P. Stephens was appointed in 1972 and served until 1988.
Frank A. DuBois was named in 1988 and retired from the post in 2003. Dr. I. Miley Gonzalez was appointed later that same year and served until his retirement in 2010. The NMSU Board of Regents appointed Jeff M. Witte in May 2011.