---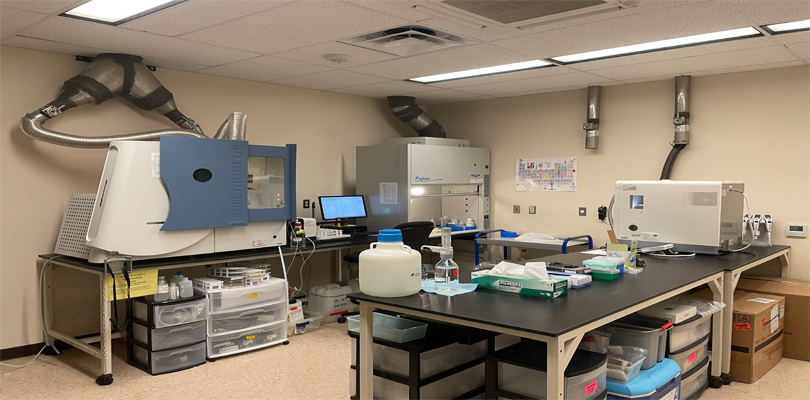 ---
PLEASE NOTE: The State Chemist Laboratory has moved to a new location:
NMDA — State Chemist Laboratory
973 Agriculture Way
Las Cruces, NM 88003

---
Our Mission
The NMDA State Chemist Laboratory is primarily a compliance and regulatory lab. The primary mission of the State Chemist Laboratory is to provide analytical support services to NMDA's Agricultural & Environmental Services Division. This division is charged with ensuring that New Mexico's citizens receive quality products. These are those who use animal feed (including pet food), commercial fertilizers, and commercial pesticides. These services ensure a level playing field for manufacturers and promotes responsible environmental stewardship. In support of this, the laboratory analyzes samples of these types collected by NMDA inspectors from across the state.
Testing
The State Chemist Lab has the capability to perform a wide variety of tests on Feeds, Fertilizers, and Pesticides. This includes, but is not limited to, protein, fat and fiber content for animal feeds. Also included are available nitrogen, potash, and phosphoric acid content for fertilizers. This also includes identification and formula verification for pesticides. A complete list of available tests is included on the Analysis Request forms available below. Additional special testing is available on a case-by-case basis. Check back often as we are always working to expand the services we can provide. All of these tests can be requested on a fee basis by private citizens and industry. Please note that the fee schedule for pesticides is specified as per NMAC 21.1.2.9 subsections C(7) and D.
Service Samples
Samples will not be analyzed until payment is received. Please include a check or online payment number with your submitted samples.
If you are planning to submit more than 10 samples at a time, please contact the State Chemist at 575-646-2799 or email  statechemistlab@nmda.nmsu.edu.
A feed or fertilizer analysis request form (see links below) must be submitted for each sample to be analyzed.
Samples should be submitted in clearly labeled, sealed, clean plastic bags. If submitting liquid feed or fertilizer samples, submit in a leak proof vessel within a sealed plastic bag.
A minimum sample volume of 100 g/100 ml is required for analysis. If possible, please include a copy of the product label with an ingredient list.
Standard turnaround time is 10 business days, or approximately two weeks, for feed and fertilizer testing. When complete, your analysis report will be emailed to you, followed by a hard copy in the mail.
Analysis Request Forms
For questions or to request additional information or analyses, please call the State Chemist at 575-646-2799 or email StateChemistLab@nmda.nmsu.edu.
---