---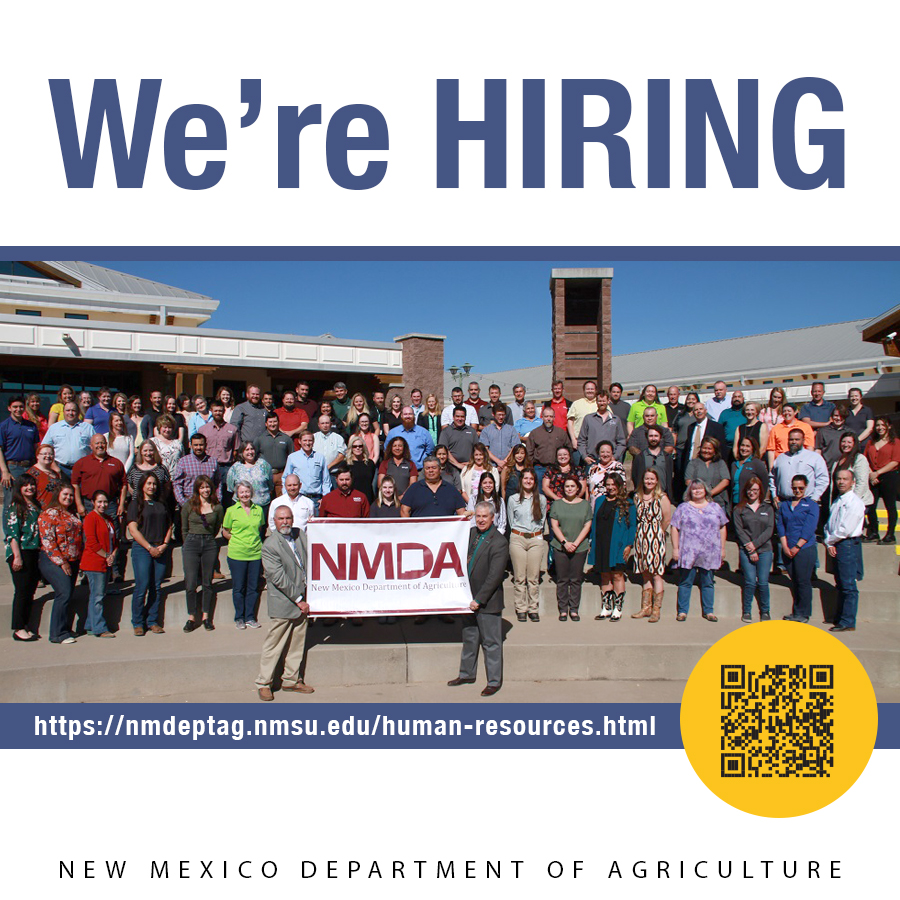 Staff Opportunities
NMDA Inspector, Sr. Join our Standards and Consumer Services team as an Inspector Senior in the Curry County, New Mexico area. Minimum requirements: Bachelor's degree in a related field and 5 years directly related experience. NMDA/NMSU is an Equal Opportunity and Affirmative Action Employer.
Deadline to apply: March 24, 2023
Vet Lab Specialist Associate Join our Veterinary Diagnostic Services team as a Vet Lab Specialist Associate. This position is located in Albuquerque, New Mexico. Minimum requirements: Associate's degree or any equivalent combination of education, training and/or experience as approved by Human Resource Services may be used to meet the minimum requirements. NMDA/NMSU is an Equal Opportunity and Affirmative Action Employer.
Deadline to apply: March 24, 2023
Vet Pathologist Join our Veterinary Diagnostic Services team as a Vet Pathologist in Albuquerque, New Mexico. Minimum requirements: Doctorate of Veterinary Medicine. NMDA/NMSU is an Equal Opportunity and Affirmative Action Employer.
Deadline to apply: April 16, 2023
If you have specific questions about positions at New Mexico Department of Agriculture, or can't find the information you are trying to locate, please contact NMDA Human Resources at (575) 646-7523 or  send us an email. Thank you for your interest in employment opportunities at the New Mexico Department of Agriculture. 
---
Equal Employment Opportunity/Affirmative Action
New Mexico State University, in compliance with applicable laws and in furtherance of its commitment to fostering an environment that welcomes and embraces diversity, does not discriminate on the basis of age, ancestry, color, disability, gender identity, genetic information, national origin, race, religion, retaliation, serious medical condition, sex (including pregnancy), sexual orientation, spousal affiliation, or protected veteran status in its programs and activities, including employment, admissions, and educational programs and activities. Inquiries may be directed to the Executive Director, Title IX and Section 504 Coordinator, Office of Institutional Equity, P.O. Box 30001, 1130 E. University Avenue, Las Cruces, NM 88003; 575-646-3635; equity@nmsu.edu. 
NMSU is committed to providing reasonable accommodations to qualified individuals with disabilities upon request. To request an accommodation, please contact the Office of Institutional Equity, 'Loughlin House, 1130 E. University Avenue, Las Cruces, NM 88003; 575-646-3635 or equity@nmsu.edu . One week advance notice is appreciated. To request this document in an alternate form, please contact the NMDA HR Coordinator, PO Box 30001 MSC 3189, 3190 S. Espina, Las Cruces, NM 88003; 575-646-7523; nmdahr@nmda.nmsu.edu. (8/2017 version)
---