---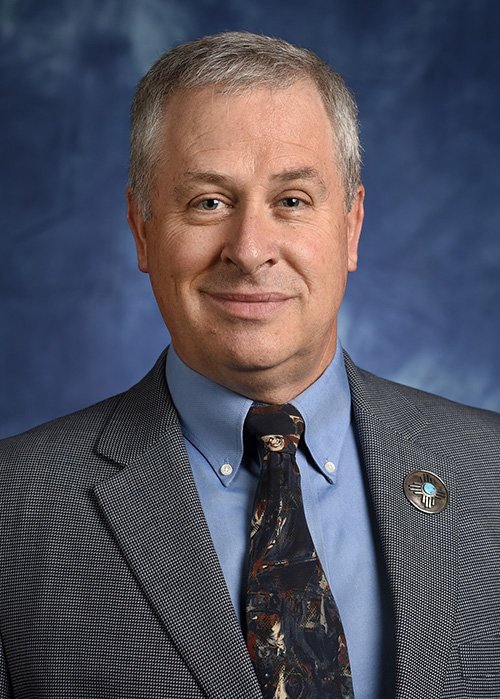 Jeff grew up on his family's ranch on the Rowe Mesa between Moriarty and Las Vegas, New Mexico. He graduated from New Mexico State University (NMSU) with a bachelor's degree in agricultural business management and a master's degree in agricultural economics and economics. 
After college, Jeff worked for New Mexico Farm & Livestock Bureau as the field representative for the counties in northern New Mexico. He also represented the state's farmers and ranchers in legislative discussions in Santa Fe. During this time, Jeff worked to bring farmer groups and rancher groups together. The Ag Group, as it's loosely known, still gathers every year before the legislative session to set policy priorities that will benefit all of agriculture. When the session gets going, the group hosts Ag Fest to showcase to legislators and their staff the diversity of New Mexico agriculture. Jeff was instrumental in making this an annual event.
Jeff first came to the New Mexico Department of Agriculture (NMDA), located in Las Cruces, in 1994. He spent the next nine years as the assistant director alongside Director/Secretary Frank DuBois. During that time, Jeff helped create the New Mexico Agricultural Leadership Program, a two-year program that aims to develop effective leaders within the state's food, agriculture and natural resource sectors.
Jeff then went to work as the director for the Office of Agricultural Biosecurity for NMDA and NMSU. He later started up the Southwest Border Food Safety and Defense Center at NMSU. In both capacities, he worked with private industry and officials at all levels of government to develop plans that will protect New Mexico agriculture as part of a homeland security strategy. Jeff still heads up trainings on the subject from time to time.
Jeff was named New Mexico's fifth permanent Director/Secretary of Agriculture in May 2011. He is past president of the National Association of State Departments of Agriculture (NASDA), past president of the Western Association of State Departments of Agriculture, past president of the Western United States Agriculture Trade Association, and past chair of Natural Resources, Pesticide Management & Environment Committee for NASDA.
Jeff was appointed to the Local Government Advisory Committee (LGAC) by the U.S. Environmental Protection Agency Administrator in 2015, served as vice chairman from May 2018 to May 2021 and currently chairs the Healthy Communities work group. As a member of the LGAC, Jeff represents state-appointed officials. The committee provides advice and recommendation to the EPA Administrator to assist in developing a stronger partnership with local governments. The committee also provides direction regarding building state and local capacity to deliver environmental services and programs.
In 2020, Jeff was appointed by the U.S. Environmental Protection Agency as a new member of the Farm, Ranch, and Rural Communities Committee (FRRCC). The FRRCC provides independent policy advice, information and recommendations to the EPA regarding environmental issues and policies that are of importance to agriculture and rural communities. His term ends June 2023.
Jeff was also appointed by the U.S. Department of Agriculture as a new member of the Advisory Committee on Agriculture Statistics (ACAS) in 2020. The purpose of ACAS is to advise the U.S. Secretary of Agriculture and the National Agricultural Statics Service on the conduct of agricultural censuses and surveys. ACAS members represent a variety of agricultural sectors across several U.S. states and districts allowing for a broad representation of perspectives on various agricultural disciplines. He will serve as an ACAS member through June of 2022.
In 2021, Jeff became a member of the NMSU Agriculture Modernization Advisory Committee (AMAC). NMSU's College of Agricultural Consumer, and Environmental Sciences (ACES) launched a comprehensive initiative to update its buildings and programs and received funding under the 2018 and 2020 General Obligation Bonds. NMSU has ambitious plans to improve value-added agriculture, the health of New Mexicans and digitalization of agriculture in order to benefit farmers, ranchers and agricultural processors in the state. The main purpose of AMAC members is to advise, contribute expertise, make connections and serve as ambassadors for the overall mission and vision of updated agriculture facilities and programs. As a member of AMAC, Jeff will help contribute to the success of the overall project, make a positive impact on the agriculture community and higher education, and impact student learning as well as industry growth.
NASDA President and New York Agriculture Commissioner Richard Ball appointed Jeff as vice chair of the association's Natural Resources and Environment Committee in September 2021.
The bulk of Jeff's time as New Mexico's secretary of agriculture is spent on the road, meeting with groups that represent farmers and ranchers across the state. He also works to educate legislators about New Mexico agriculture.
Jeff and his wife Janet live in the southern New Mexico's Mesilla Valley. Their son, Jeremy, received a degree in ag economics and ag business from NMSU, as well as a master's degree in economics from George Mason University. He currently works for the U.S. Senate Committee on Agriculture as a senior staff member. Their daughter, Jennifer, received a bachelor's degree in nursing from NMSU and currently works as a registered nurse in Albuquerque.